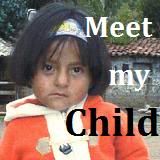 So glad to be getting back to some what normal. It's Thursday, and I'd like to introduce you to 14 year old Mwanaidi from Tanzania. She is one of my relatively newer kids, and I am her correspondent. But one of the neatest things about this young lady is, I know her sponsor!
I actually had her packet as an advocate and showed it to an elderly friend, who already sponsored 2 girls. I had share her packet with her, thinking she may share it with a another friend who has showed some interest in our sponsored kids, but does not sponsor her self. Miss M (as I'll refer to her by) called me aside later, and pointed out Mwanaidi's packet and said I want to adopt her too! She shared how she really was wanting to give more, especially since she isn't involved in a church so much anymore. But corresponding with her two girls was enough for her. And asked if someone might be able to write to her girl, as she understands the importance of letters. I told her I would love to! And I would share every letter with her.
And it's really worked out wonderfully. She even gives me a little extra money to help with stickers and goodies to send to her (I would write her regardless and treat her the same as any of my kids, but I think it's amazing that a financial sponsor things so highly of her girl). And it was due to her age that she didn't feel she could take on the responsibility of writing another child. But she loves her still the same. Another example to me, that finacial sponsors who opt to have correspondent sponsors are anything but heartless people. I believe it takes even more love to be able to ask someone else to write on their behalf, forgetting in most cases the precious letters they would receive.
I have received about 3 of 4 letters from her, and they haven't been filled with many details, but as I mentioned earlier in the week, she seems to be a very brilliant girl who loves school. I think she may be a bit shy, as she does ask me to pray for her exams, and her family, but doesn't give many details...except school, like the subjects she enjoys.
When she first joined my family I asked for her previous photo, and this was what I received:
She hasn't shown a smile in any of her photos, but she almost looked down right mad in this photo.
This was her photo when Miss M started sponsoring her: