Ok, so maybe you thought I had introduce all my kids, or maybe just forgot. What originally was a weekly introduction to my kids, has happened the last couple weeks, as I was typically doing them on Thursdays, and thanksgiving through me off. I have really enjoyed introducing my
Compassion International
kids to you, and I hope you enjoy as well. Feel free to use my button on your blog, if you decide to do any introductions yourself.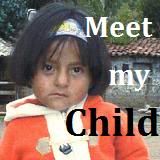 So today I'd like to introduce you to a special 9 year old from Thailand, Duangdao. She join me in February of 2010. And from the start of letters, I felt I had a little bit different bond with this young lady. There was something special.
Such a cute, tiny little girl. I quickly learned she would join my group of amazing artists!! Every letter, there was a new drawing. And while she was too young to write her own letters at first, she always wrote her name in Thai on the back.
Her pictures were a bit simple at first, but I could tell she took much joy in drawing them. And they were always on a separate piece of paper from her letters. On common thing I've noticed from her letters early on, is she always asks for prayer for her friends at the project. Makes me wonder if there are many without sponsors. Though I did ask her once if her project friends had sponsors who wrote letters to them, and she did tell me yes.
She is a middle child; her older sister is only about a year older. And her baby brother is probably about 2 or close to 3 years old now. She is one of my few kids that is blessed to be living with both parents, though she never mentions her parents much. Her tutor always mentions she is glad to receive my letters, and in one of the first few letters she writes back "She's very happy to know I writing you again."
She tells me her favorite color is green! And how she loves to play dolls and "shopping" with her sister. She also enjoys swimming in the brook by her house.
She loves to ask questions like: What's my favorite season? What's my favorite flower? What's my favorite fruit? And last Christmas asked if people go caroling where I live.
I remember I was so excited when I received her update photo. She has grown up so much!
And while she has no smile, I imagine this young lady to be quite the joyful girl. I know her letters always bring me much joy! She has even tried to teach me to write in Thai! She has taught me to write her name, and how to write Jesus. To read more about my trials, go
here
and read My Thai.
I do see this girl with much potential. Not to say all children don't have potential, because they all do. And I know they all have great dreams, they want to fulfill. But I see much hope for a bright future in the life of Duangdao. And excited to see where her dreams will take her!