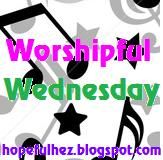 I know this song has been on our local Christian radio station. I fell in love with it the first time I heard it. The music and the words make me want to jump up, raise my hands and worship our creator.
Please enjoy Chris Tomlin, White Flag
Anyone care to join me by posting a favorite worship song, or even Christian song? Or maybe one that has really stuck out this last week.
Leave me a comment below! I'd love to listen