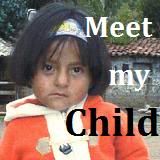 In the past I've done introductions of my current Compassion kids, with a few past kids also. Today I'd like to introduce to you Nuru.
He was my third addition to my correspondence kids. He was 17 and from Tanzania. I was introduced to him back in 2009 or so. And wrote faithfully and frequently. I know he enjoyed soccer, and his studies were about average.
I wrote Nuru for about 9 months. After a few months of not hearing from him, I became a little worried. I prayed even more, and wrote even more frequently. I thought maybe as a teenage boy, he needed me to earn his trust before he'd open up or want to write.
I think it was probably after 7 months of not hearing from him, I called Compassion to see if they could look into why I hadn't heard from him. I believe it took close to another 2 months to hear back.
At this point I was told he had gone off to college, but not returned home or to the project. The staff tried to track him done, but were unsuccessful. And due to the length of time that had elapsed he was no longer part of the project.
Honestly, my heart sunk. I wondered why all this time I'd tirelessly worked on heartfelt letters to send this young man. Had he received ANY of them? Probably not.
But then I started thinking about all the project staff that saw those letters. How they watched the stack of letters grow for this young many, a young man who may never have received many or any letters before. And as that stack grew, I'm sure their desire to search out this young man grew.
All those letters would need to have been translated also. Maybe one of those translators need to hear those words within on of those letters. Those words I intended for Nuru, God could have intended for one of them.
God has a way of doing things that don't always make sense to us, but they do have a purpose.
This week Nuru has been on my heart. My prayer is that he is serving God where ever he is, and he remembers the love of those in his Compassion project. Even if he never knew of me I pray he knows the love of God. And I pray for those words written, to whomever God intended, I pray they reach their ears, even years later.
"So let's not get tired of doing what is good. At just the right time we will reap a harvest of blessing if we don't give up." Galatians 6:9