So as I was reading about another sponsor's letter from Peru over on
OurCompassion
, there was a comment made about having two weeks off to celebrate their independence. Which reminded me of the large parades that invaded many sections throughout Lima, Peru during the time I was there, July of 2004.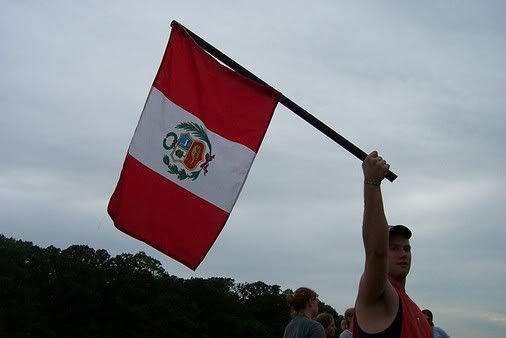 It was a Saturday, a free day to "explore" and the small group I was with started out in the Miraflores district, east of Larcomar. The Inca market was on the east end, Burger King and McDonald's are also found in this area. But as you head west from the large round-a-bout where most of those locations are found, you'll find a myriad of other other shops from ice cream and donuts (Dunkin Donuts), to shoes and clothing. Someone in our group wanted to head back to the Abercrombie shop that was a couple side streets over. Another from our team had mentioned finding this shop where they sell the "outlet" type clothing (small imperfections) and since it was made locally, the American favorites, and expensive, were dirt cheap.
As we made our way towards the shop we realized this task was easier said than done. There was a larger parade taking up the entire street we needed to cross! So many people crowed the sidewalks it was almost impossible at first to see the parade. If it hadn't be for the height of some of the displays, we would have been wondering what was going on.
So we decided to attempt to go around. We went down an opposite street, and around to realize the crowd everywhere made it next to impossible to cross. After walking several blocks with no luck, we turned around to navigate back through the maze of people and street peddlers.
We then found a slight hole to peer through and watch the parade from. It was amazing. I was amazed at all the celebration. I know Americans like to celebrate, but I never thought other countries celebrated in such style.
That night we also watched as the sky grew dark, and fireworks lighted up the sky. It was much bigger of a celebration than I was accustomed to growing up in a small town. While there were not local, within the neighborhood, fireworks, all one needed to do was look up. The fireworks went on for quite some time.
I remember thinking of how amazing it was to watch their celebration of independence, and think to all those houses packed along the hills of Lima. People living in extreme poverty, parents doing all they can to support their families. And how amazing it must be for those kids to watch such a spectacular event. Kids who do not understand they are living the definition of extreme poverty. They do not understand they can achieve great things, and grow up to be outstanding leaders in their communities and their nation.
Most of them are still looking for hope. For a greater reason to carry on. That's why programs like
Compassion
work. They are Christ centered, child focused, church based and committed to integrity.
That means the reason they do what they do, is to honor Jesus, in all they do. Their focus isn't on trying to change only the community in which these people live. They know if there is a change in this next generation, in the children and young people, they will grow up to be even greater catalysts in their communities. They with start changing their communities as they are empowered by Christ and greater education. And as they work along side the local church they can help better meet the needs of the community. The church knows the needs, and the individuals within their community. The church is key. Integrity is the high standard Compassion upholds. They work closely with their country partners in training and bookkeeping to accurately keep track of funds coming in and going out. They have also received the highest rating by
Charity Navigator
multiple years in a row.
They are children...many children, waiting for hope. To know that not only are they loved by God, but by you!
Would you consider ending that wait?