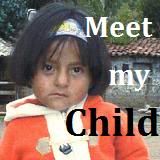 Well today I would like to introduce you to another very special young lady, her name is Carolyne. She is 15 years old, and from Uganda. She was my fourth addition to my
Compassion International
family. And while I'm very sad today that she is no longer part of Compassion's program, she holds a very special place in my heart, and has an amazing story of being an over comer.
My sister and I had up until this point had twins, and girls in the same project. But we both kept browsing the photos over on the Compassion International
website
. If you have never looked at those precious faces, I highly suggest it. And my sister had found 2 young ladies from India and was debating between the two, when one of the girls found the other sponsor, she quickly sponsored the other girl. I had been glancing through photos for a while, and just wasn't sure which child, or if I should even add another child. But one bald 13 year old, orphaned girl from Uganda caught my attention, but I decided to think upon my decision a bit more. That night after getting off the computer, I had a dream that I met a young lady in Africa, and the face was that of Carolyne's. So when I woke up the next morning I sponsored her. We shared almost the same birthday, 10 years and 3 days apart.
So then the anxious wait was on for her first letter. This was my first child from Africa, but Africa has been near and dear to my heart since my first mission trip in 2003. And then the arrival of the first letter! And my heart drops...she's asking me for forgiveness because she has become pregnant. At this point my heart broke so much for this 13 year old young lady. The emotions and thoughts going through her head must have been awful! So I called up Compassion to see if they were able to get any more information about this situation (plus the dread in the back of my head, makes me wonder if they might kick her out of the program, which they didn't). A few weeks later I received an email from Compassion field office Uganda that said their plans were to file charges on the man, but because he is under aged like Carolyne, that charges would have to be brought to both of the youth, and since that wasn't in her best interest, they were going to stick by her side, and help her through this time. Prior to her first letter I received her updated photo, at the time not realizing from the photo she was pregnant. Also her joyous smile was gone.
Beyond being 13 years old, pregnant, and orphaned, Carolyne also had only completed about the equivalent of the 3rd grade, probably because of all the hardships and moves she had already faced in her young life. So when it came to receiving letters, they were written by one of the project workers on her behalf. I remember getting news she had delivered a healthy baby girl!! I was so excited and proud, despite the situation not being good, I know that she needed someone on her side loving and encouraging her, and I was so glad God choose me as her sponsor. The first year I sponsored her I got strictly 3 letters. I had sent a family gift after receiving word she gave birth, figuring there were many needs for both Carolyne and her sweet daughter. I received a nice thank you letter along with this photo! Isn't she precious?!
It took some time of asking to finally get the answer to what she named her daughter...Diana. But the letter I received with this information told me she was sick, and on medicine. While in America this sounds great, but in a third world country, this is not good news. Many babies don't make it to their 5th birthday. But because letters didn't come frequently, I had to wait and pray.
The next letter came, and her daughter was doing better. She was also doing skills training through the project. She was learning salon skills, like plaiting hair. You could tell she was becoming more open with me, and that she realized that I really did love her no matter what. I wrote often, usually twice a month, because I didn't want her to ever feel she as alone. I wanted to constantly remind her of God's great love for her, no matter what.
I had sent another small gift, I believe it was only $15, but I wanted to send something else to help this young mom. She wrote back with much joy about the mattress she was able to by, and look her smile was back! That was worth it all! She looks so proud, and has her head held high.
Carolyne, with the help of the project workers over the next year wrote on average about a letter a month! Which I have heard was more than most people hear from their children in Uganda. I was so thankful, and she was proud to tell me of her progress in her skills training, and of her daughter. Carolyne despite her circumstances was determined to do something about it for her daughter! And after about 18 months, her photo updated yet again, and I was able to see an amazing young lady!
I don't think words could describe the bond I had with this young lady. Despite everything she had gone through, and was going to go through she could stand there with a smile of joy on her face! That takes courage and strength, given by our Creator.
Her birthday that year she bought clothes for both herself and Diana, and I got photos of them separately. I was so excited to see how big Diana was getting, and Carolyne looks like she was dressed for success.
Then spring came, and one night as I logged onto my account I noticed her picture wasn't showing up. It was Friday night, and I had to wait till Monday morning to call Compassion to see why. I kept checking through the weekend, wondering if it had been a glitch. Monday morning came, and it was not glitch. Carolyne had moved with her brother. He wasn't even the person she was originally living with, but that is not uncommon for orphans. Often times they have to move amongst family members so they do not become a burden to any one person.
When the final letter came, it was written by project staff, by their perspective, because Carolyne had already moved at this point. It was a very nice and encouraging letter, and they thanked me for all my support. They said she completed her skills training in Salon management, and Carolyne's hope was to open her own salon where she was moving. That's a big accomplishment for a single mom! And that while at the Compassion project she had professed Jesus as her Savior! Another YAH! And she has learnt how to pray and praise God. They also said they tried to convience her to come back to the project and stay living in the area, but that it wasn't a possiblity. They also promised ( I thought that was super sweet) that when she comes back they would reinstate her at the project.
I had asked Compassion about if she ever enrolled her daughter, and they told me if Carolyne mentioned her previous involvement with Compassion when she registered her daughter they would call me. But she would have to mention it or they would have no way of knowing.
And while I was super sad over my loss of such a special young lady, I continue to pray that God uses her in mighty ways. That she uses her skills and knowledge to provide for her daughter to give her a future and hope also. And it was a great example to me, while I consider these kids to be "mine" they are truly God's and in His hands. He has entrusted them to me for a predetermined time, that I have no control over. And I thank God for my many blessings!
Carolyne is one who gives me hope. Hope that we can be over comers despite our circumstances. Hope that teenage moms can succeed when they put their trust in God, and have people standing behind them. And lastly, she gives me hope for Africa, and the new generation of young people rising up, and seeking God, and desiring to change their world!