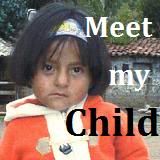 I thought I would take a day each week to introduce you to each of my
Compassion International
kids. Each of them are such a uniquic individual, that I love so dearly, I thought I would you may like to get to know they a little more. Plus I love to share about my kids! :)
My very first sponsorship was a girl from Thailand, who went by the name Dream. Her real name was Jirapon and she was 10 years old. I had just turned 18 and been on my second mission trip with
Global Expeditions
to Peru. The previous year I had traveled to South Africa, and while I had the desire to sponsor a child at that time, knew I had no way of actually financially supporting a child at that time. But by this point I was 18 and knew once I was home, I would have to been getting a job, so while I didn't have the money at the time, this was something I could definitely do, and did!
I was so excited and spent forever pouring over the photos at the table. I thought I would pick out a child from Africa, and that was where I kept looking. But then I thought about how most of the countries in Asia are pretty closed to the gospel, so I looked over at the kids from Asia. Then I saw her; I saw her name and knew she was the kid. So I grabbed her packet, but as I know others do too, kept looking just to make sure she was the kid. There wasn't any other face that stuck out, or names, and while India might have been a better chose in terms of being more closed to the gospel, Dream from Thailand was my child.
Dream lived with her grandparents and little brother while her parents were working in Bangkok. She was good student, who got A's in her favorite subjects Thai and English. Her Thai hand writing was very meticulous, especially for a 10 year old. And if you have never seen Thai handwriting, that is a big accomplishment. She was also very athletic; her favorite sports were chairball, volleyball and soccer. She was also a pretty good little artist. I received 5 letters from her in the 19 months I had sponsored her. Her last letter she wrote was a page and a half! Then I received the sad news that every sponsor dreads. She had moved to be with her parents in Bangkok, and there wasn't a project in the area, so I would no longer be able to sponsor her. But I did get a very nice final letter from the project staff. It said "She continued to study in the seventh grade there. Her parents expect her to graduate with a bachelor degree because she is diligent and attentive in studying." I am very proud of her for that! They went on to say "She has so much leadership and is very responsible. She accepted God when she was a sponsored child. If she didn't have to move out, she expected to be a Sunday School teacher." Always some of the best news a sponsor likes to hear! And lastly "Thank you for being a blessing to this kid and bringing her to know God. She also found a potential she had and used it with confidence. We believe God will lead her to be a blessing to other people in the future. Last of all I thank you for all the time you have been sponsoring her. You will always be in our prayers. May God bless you so much more that you will be a blessing to other children as well." Wow, if only they knew now, what a ripple effect Compassion would have on me, that I would have such a desire to pour into more kids. Here was her last updated photo I received.
Dream is 17 years old now, she will be 18 in February. And while I think of her from time to time and pray she is well, I am amazed and what a ripple effect a young girl can make in the life of someone else. And I doubt she could even begin to imagine how much God used her in my life. Dream I love you, I am proud of you, and I pray you continue to grow up to reach your full potential in Christ!