Well, as I was online writing to my Compassion International kids today, I noticed I had a name missing from my list of correspondent kids. My first thought was, a financial sponsor dropped a kid. Ok, well a quick review of names shows that my dear Shoa from Ethiopia is the missing name :(
So I got on the phone to call Compassion (knowing if I waited I would hear from them, either by phone or via the mail), because I really wanted to know what happened. Well, just as I suspected, the sponsor decided to no longer continue with sponsorship. The kind gentleman on the phone, then asked if I was in a position to pick up the sponsorship. I regrettably had to say, no as my current part time job, it really not making ends meet at this current time. But I asked how long I had to make the decision, because I really wanted the opportunity to maybe find someone, with whom I could share her story with that could either be her financial sponsor, or a sponsor that will faithfully write and support her.
So I guess I will let you Meet My Child-Shoa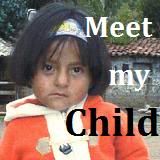 I have been her correspondent for over 2 years. When first assigned to her, I had asked a little about her past, to find out her mother passed away in 2004. She was a sweet girl, but she did take a bit of time to open up. And with the current letter writing system, letters only come out of Ethiopia about 3 times a year, which does make it a bit more difficult to make a connection with a child. That system is soon changing.
She is the youngest of 5 siblings, I believe they are all grown, or maybe 17 or 18 years old would be the next youngest. Shoa herself is 14 years old. She will turn 15 on April 12th this year. About 18 months ago I received a saddening letter from her stating her father died after being attached by a cow. If you have ever seen photos of cows from Africa...they have some long horns, I can only imagine that terrible death, for both her father and her. She is currently living with a brother, and from the picture I received for her birthday last year I would guess his wife and kids.
Her and her father, Christmas 2009
Current family photo
She does pretty well in school, and wants to be a nurse when she grows up. My guess is that she wants to do more for those she loves, instead of losing them. She's very grateful and full of questions. She always asks many questions, and not just shallow questions, but you can tell she really wants to know more :)
She really has grown in the time I have know her. Here is her fist photo I had received.
And here is her second photo
With her current photo up top
Please join me in praying for her new sponsor. If you know of anyone who may be interested in being a financial sponsor, I would love to continue to correspond on their behalf and share her letters and photos, or if you know of someone who wants to sponsor an older girl, and make the commitment of writing frequently to her and telling her how much this orphan is loved, please let me know. I have until December 7th to let Compassion know. Thanks for your prayers!