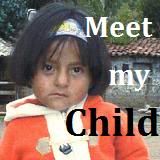 So I've decided to introduce my kids in the order in which they have joined my family, so today I would like to introduce 7 year old Dahyana from Colombia.
Dahyana has been part of my family since spring 2009. My sister and I wanted to sponsor kids from the same project, and as we looked through all the kid, there were several on the
Compassion International
website from Colombia, and there was a newer project in particular who had several kids all about the same age. My sister found her girl among that project, and I remember toying back and forth between two girls (and now I couldn't even tell you what the other girl looked like or even her name) and choose Dahyana. Something about her somber look led me to choose her.
She has an older brother, that I believe to be a stepbrother who doesn't live with them much. I know her mom is real young, and use to sell makeup, but now stays home with Dahyana and her new baby. Her dad is a soldier and I don't know much about him than that. When Dahyana was 5 her mother helped her write her letters which was nice because I got more details about the family than I had with some of my other kids who have had project workers helping them write. And then at about 6 and 1/2 years old she started writing her own letters. Her handwriting has been improving overt the letters, but is excellent for a 7 year old. I can clearly read her Spanish. She enjoys drawing, and last winter she wrote about going ice skating. She had been very excited for the arrival of her new sibling, who was suppose to be born in June. Her most recent letter hadn't mentioned the baby, but she was talking about her house, and some of the other questions I had asked.
Birthday Gift 2010
She isn't one of my frequent letter writers, so I'm pretty excited they are implementing new guidelines for letter writing and that I will be hearing from her more frequently. She is a very smart young lady, with ambition, and I think she is one that will go far in life, possibly even the Leadership Development Program.
Here's her most recent photo, taken taken last September. Isn't she a Diva?